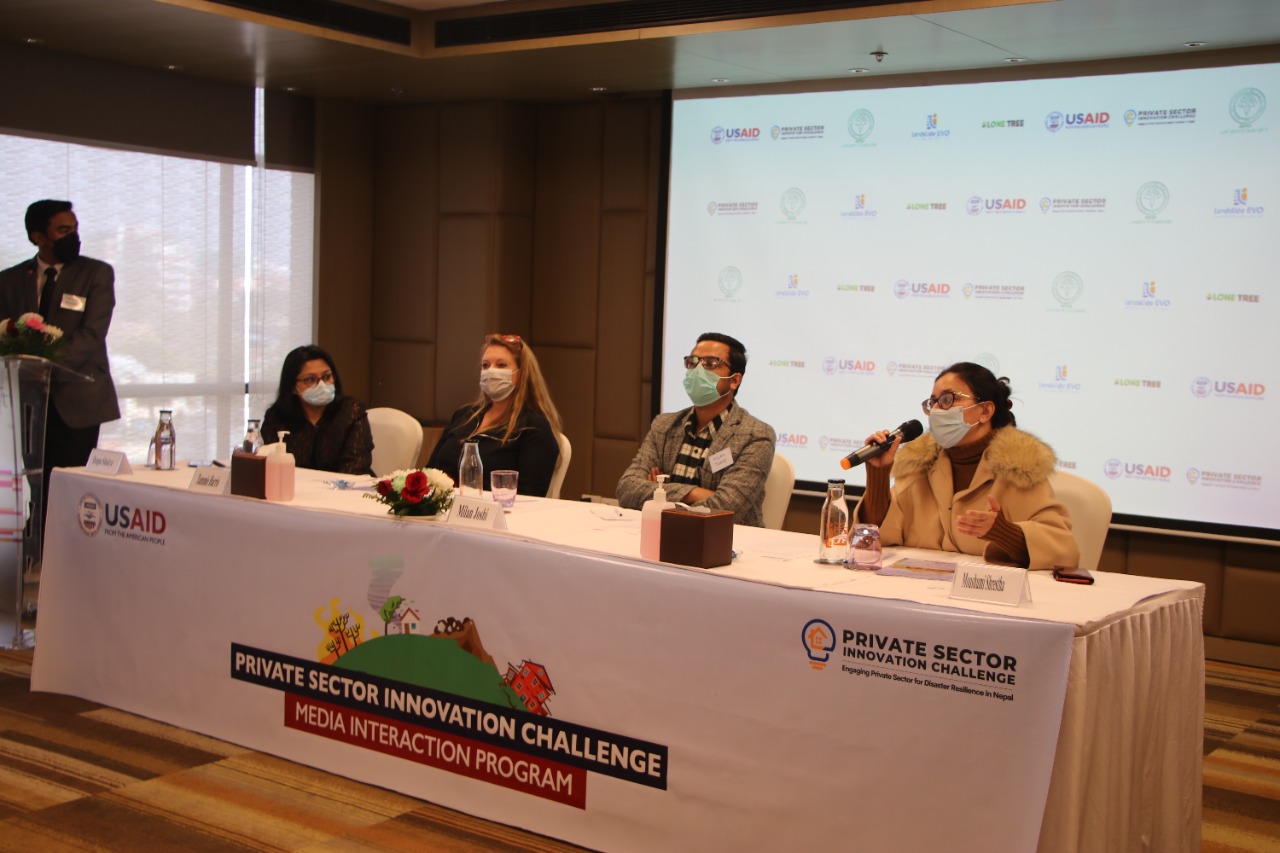 USAID's Tayar Nepal Engages Private Sector in Disaster Management
Tayar Nepal, USAID's Disaster Risk Management Project, said Monday it is organizing an initiative to engage the private sector in finding innovative and sustainable solutions to help manage disasters in Nepal.
Potential startups or existing businesses from all over Nepal can apply for the challenge where 10 innovative businesses or ideas will be selected for an intensive five-day bootcamp, the organizer said.
The top three ideas or businesses will be selected for an additional four-month intensive program that will bring the business ideas to market.
The three selected ideas will receive seed capital of Rs200,000 to Rs300,000, said Milan Kumar Joshi, Managing Consultant of Practical Action Consulting South Asia during the press conference held Monday in Kathmandu.
"As the seed capital is not sufficient, the program is seeking sponsorship from various potential private sector partners of Rs 2-3 million for additional financial support. So far, we have secured Rs 800,000 under sponsorship," Joshi said.
For additional funding sources, the team is in talks with banks to provide funding or an investment loan, he added.
"Tayar Nepal is focusing on floods, landslides, hailstorms, heat and cold waves and road accidents, but we will be looking for any ideas that have potential in disaster risk management into four phases: mitigation, preparedness, response and recovery," Joshi said. .
Startups with zero to two years in business and existing businesses with two to five years in business can participate in the program. Companies that have been in existence for more than five years can also apply, but these candidates will be considered on a case-by-case basis.
The final pitching event will take place on April 22.
Tammie Harris, party leader in Tayar Nepal, said the program works at federal and local levels. "At the national level, Tayar Nepal is supporting the government to build disaster risk reduction capacity within national institutions," said Harris.
According to Harris, there are three different approaches to engaging the private sector. The first is to provide business continuity management support to private sector partners to ensure that they are able to sustain their operations over the past two years in Nepal.
The second area is innovation. "We want to promote innovative solutions to build community resilience and that's a big part of the activities we're launching today," she said.
And the third area is to foster partnership between public and private as well as between private companies to help build capacity to create an enabling environment for private sector engagement in disaster risk reduction management. disaster, Harris said.
The application has already been opened from February 21 which will last for a month.