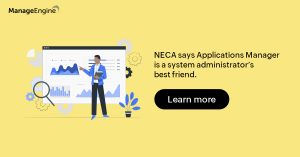 NECA provides 99.9% system availability using Applications Manager
"Applications Manager has a more user-friendly interface and more delicate authorization controls than other products on the market. "
– Yu-Ting Swenson, System Administrator, NECA
About the National Exchange Carrier Association, Inc. (NECA)
NECA is an allied association of local telecommunications providers in the United States established by the Federal Communications Commission. It aims to provide affordable telecommunications and broadband services to rural consumers across the country. Its services also include economic forecasting, trend analysis, industry database management, and rate and tariff analysis.
Numerous web applications, servers and services make up NECA's IT infrastructure. Internal and external users use its web applications daily to send critical data, and allied companies use its websites to submit monthly reports to obtain funding approvals.
In order to provide a hassle-free user experience, to stay up to date with valid SSL certificates, and to avoid performance degradation that affects IT operations, NECA should be notified of any major difficulties. It does this by monitoring the use of system resources, websites and applications, as well as managing SSL certificates.
Due to NECA's hybrid infrastructure, it has proven difficult to prevent an unexpected service downtime and find the root cause. This led NECA to research an all-in-one performance monitoring solution that would help resolve issues by providing end-to-end visibility into the IT infrastructure.
The solution: Application manager
During NECA's research on monitoring tools, he stumbled across Applications Manager and decided to do an assessment in his environment due to the excellent online reviews that Applications Manager had received. After installation, NECA found that Applications Manager streamlined and automated operations while providing a holistic view of the overall performance of its infrastructure.
The experience of the application manager
"Applications Manager is a system administrator's best friend. By using Applications Manager as a real-time monitoring tool, we are now able to support a service level agreement of 99.9% system availability to the public, "said Yu-Ting Swenson, system administrator at NECA.
The Application Manager now helps NECA to:
Meticulously monitor the internal and external activities of its websites.

Maintain SSL certificates by managing and reviewing them.

Monitor the performance, health, and availability of servers, databases, virtual machines, and applications.

Receive alarms when system resource usage increases so it can scale resources at the right time and minimize downtime.
Download the free 30-day trial to learn more about Applications Manager and how it helps you better manage your IT infrastructure.
Application manager is part of the ManageEngine ITOM solution suite. Besides application monitoring, ITOM also offers solutions to streamline network monitoring, server monitoring, bandwidth monitoring, configuration management, firewall security and compliance, IP address management and switch port management. Truly, this makes ITOM solutions an ideal choice for over a million IT administrators around the world.
The post office NECA provides 99.9% system availability using Applications Manager appeared first on ManageEngine Blog.
*** This is a Syndicated Security Bloggers Network blog by ManageEngine Blog written by Niharika Mahesh. Read the original post on: https://blogs.manageengine.com/application-performance-2/appmanager/2021/11/18/neca-delivers-99-9-system-uptime-using-applications-manager.html