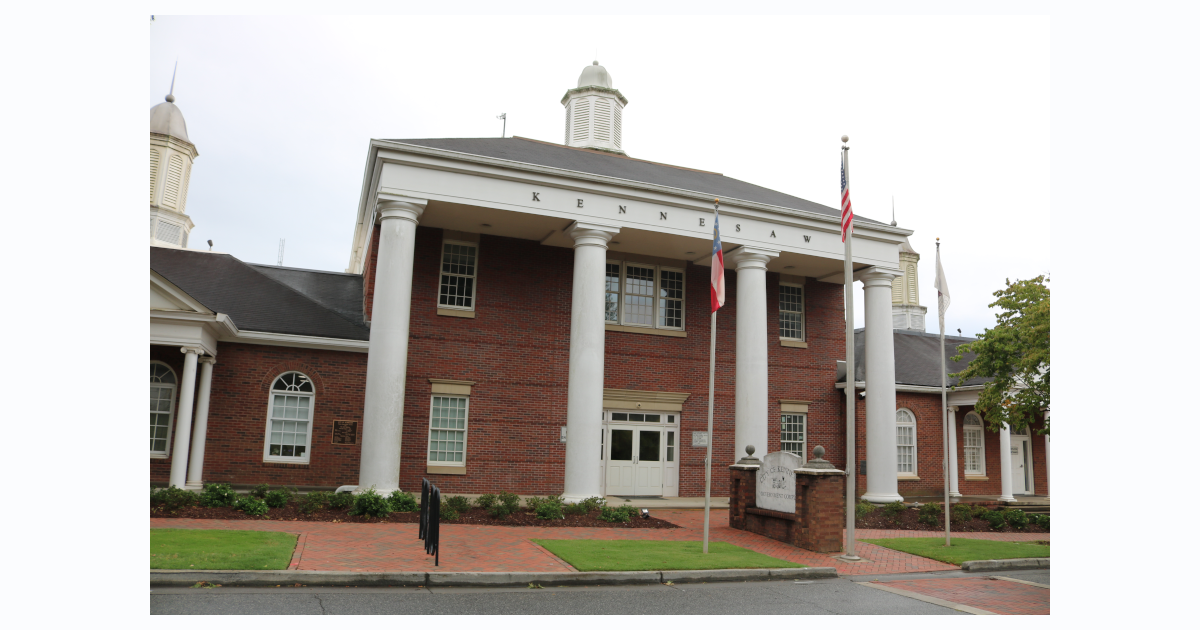 Kennesaw unveils its 10-year economic development plan
by Rebecca Gaunt
New 10-Year Strategic Economic Development Plan for the City of Kennesaw Focuses on Creating Quality Jobs, Retaining Small Businesses, and Strengthening Downtown's Links with Other Centers of Activity local economy.
Luke HoweKennesaw's director of economic development presented the plan to Mayor Derek Easterling and city council during Monday's business meeting. A leadership team of elected leaders, city employees and community stakeholders collaborated with RKG Associates over a 10-month period to identify city goals and strategies.
The demographic analysis revealed four main results:
-The population is aging, which puts a strain on the housing stock because many have chosen to stay in place. From 2014 to 2019, the number of residents aged 65 and over increased by 26%.
-Kennesaw is diversifying. Since 2014, 48% of the population growth has been non-white. The Asian population grew by 31%, Blacks by 12% and Latino / Hispanics by 1%. However, Kennesaw remains less diverse than the rest of Cobb County and the region. The current population is 62% white, 25% black, and Asians make up 6% of residents.
-Households are larger. One-person households decreased 12%, while two-person houses increased 20% and three-person houses increased 18%. Households of five or more people increased by 35%.
-Income increases. The median income rose to $ 70,930 and there was a 32% growth in households earning more than $ 75,000 per year. The highest growth (131%) went to households over $ 200,000 per year.
RKG also performed an economic base analysis. One of the great discoveries is unlikely to come as much of a surprise.
"Traffic is a problem," Howe said. "It will be something that will continue to plague the whole region – not just us. People are tired of sitting in their cars. It is a question of quality of life.
This poses accessibility problems for jobs and puts pressure on the roads.
The analysis also concluded that Kennesaw is balanced when it comes to the blue-collar and white-collar labor markets and that job growth in the city has outpaced the region.
Howe said he was surprised to find the education level forked.
"We've made tremendous progress in graduate degrees, which makes sense given the state of Kennesaw, but we've seen a big jump over the past decade in people without a high school diploma," did he declare.
According to the analysis, 26% of the city's residents have a bachelor's degree and 9% have a graduate degree. Over the past five years, the number of residents with a graduate degree has increased by 81% (399 people) and the number of people without a high school diploma has increased by 59% (660 people).
"We have already started working on this. We have made a commitment with a junior college that wants to be here in the next five years and accepts GED students, "Howe said.
Kennesaw's five largest industries are retail and commerce, government, accommodation and food services, professional, scientific and technical services, and construction. The fastest growing warehousing and transportation industry.
On real estate, Howe said, "We don't have enough housing. It seems we are because we get this glut of apartment offers, but we really don't have enough housing in the city. And I think we can exceed our weight in job growth if we really innovate in housing, because nobody is doing it really well.
Although Kennesaw has been a relatively affordable housing market, rental housing prices now exceed the Cobb County average. The analysis warns that rising housing costs will make it more difficult to attract resident workers.
Additional goals of the plan are to increase community equity with programs for women and minorities, become more business-friendly, and improve the city's outreach, communication and marketing to potential and current residents. .
Read the full draft plan here.
Rebecca Gaunt received a journalism degree from the University of Georgia and a Masters of Education from Oglethorpe University. After teaching elementary school for several years, she returned to writing. She lives in Marietta with her husband, her son, two cats and a dog. In her spare time, she enjoys reading, gorging on Netflix, and traveling.